Babies, Babies, Babies!!!! My best friend and my sister in law are having babies within the next month and we all know what that means! BABY QUILTS!!! Since, my sister in law is due within the week, I am working on hers first (yes, I'm a procrastinator!) Her nursery is decorated based on the Beatrix Potter characters and is the sweetest room you've ever seen! Murals and all (she has a beautiful design eye). She found these panels online and we went fabric shopping together to make sure everything coordinated in her almost finished nursery!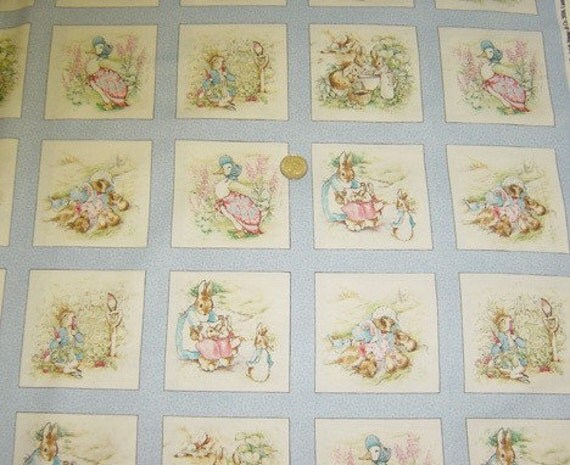 I'm using the Picture Frames pattern to feature these sweet story book squares. All I've done so far is the first border around the panel blocks. I still have to do the frame section with the accent of blue and quilt and bind it. This will be my March
A Lovely Year of Finishes
goal!
Since, I'm heading out to a 4 day quilt retreat with a quilting friend tomorrow, I'm hoping to also get my best friends baby quilt done as well. Her colors are pink, green, and purple and I found this fun fat quarter bundle of Joel Dewberry's Heirloom in the sapphire palette. I just LOVE Joel Dewberry, so this will be a fun one for me! I'm still trying to decide on a pattern, but I'm thinking it will be something like
Amy Smart's Lattice Quilt.
ANY IDEAS FOR A FAT QUARTER FRIENDLY BABY QUILT PATTERN THAT WILL SHOW OFF THESE BEAUTIFUL FABRICS??? LINKS ARE APPRECIATED! :)
Edit: I started this post on Monday and since then, my best friend had a big surprise, 5 weeks early!!! Mom and Baby are doing good, but please lift up this tiny precious one in your prayers; for continual growth, improving health, and no complications! Prayers are powerful! (CONGRATS BESTIE!!!! I LOVE YOUR SWEET, GROWING FAMILY!!!)